Milen Tod has been a professional artist for over 18 years. His
cityscapes
and
abstract paintings
and are the expression of a more subtle future dimension announcing the new world to come.
Describing Milen's artwork is not an easy task, since he usually let the admirer discover an own truth, through the magic of forms, colors, composition, perspective and ideas.
Special offers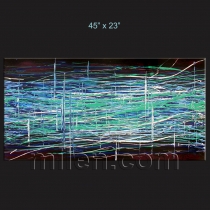 $ 378.00
$ 298.00
Gift Certificate
     An original painting by Milen Tod is the right choice for holiday, birthday, anniversary, wedding, new house - for any occasion!.

    Buying a Gift Certificate you are giving the recipient a pleasure of shopping experience at a time that's convenient for he/she.

    Choose your Certificate and click the "Buy Now" button below, to go to the PayPal website and complete the purchase. Once we receive the payment confirmation from PayPal, we'll email you the printable Gift Certificate.


FOLLOW US