Milen Tod has been a professional artist for over 18 years.
My
cityscapes
and
abstract paintings
are the expression of how I envisions the future. Composition is my first priority, and I pays careful attention to the balance of shapes, directions, weights, and colors. I works with semi-liquid paint and large palette knives to create my acrylic abstracts.
My paintings and murals are owned by over 1700 private collectors around the world. I have sold over 2300 artworks.
Here is my technique:
youtube.com/watch?v=DaSgL22UnOI

When I'm not making art, I love hiking, rafting, windsurfing, rock climbing, and cave bouldering… basically anything outdoors! Milen got his start painting a lot of ceiling and wall murals in night clubs, restaurants and bars.
Special offers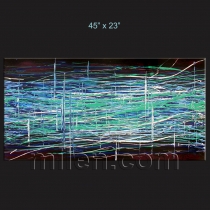 $ 378.00
$ 298.00
ART PRINTS
The word "giclée" was created by Jack Duganne, a print maker working at Nash Editions. He wanted a name for the new type of prints they were producing on the IRIS printer, a large format high resolution industrial prepress proofing ink-jet printer they had adapted for fine art printing. He was specifically looking for a word that would not have the negative connotations of "ink-jet" or "computer generated".





FOLLOW US