Milen Tod has been a professional artist for over 18 years. His
cityscapes
and
abstract paintings
and are the expression of a more subtle future dimension announcing the new world to come.
Describing Milen's artwork is not an easy task, since he usually let the admirer discover an own truth, through the magic of forms, colors, composition, perspective and ideas.
Special offers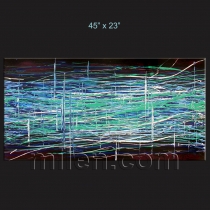 $ 378.00
$ 298.00
ART PRINTS
The word "giclée" was created by Jack Duganne, a print maker working at Nash Editions. He wanted a name for the new type of prints they were producing on the IRIS printer, a large format high resolution industrial prepress proofing ink-jet printer they had adapted for fine art printing. He was specifically looking for a word that would not have the negative connotations of "ink-jet" or "computer generated".





FOLLOW US